Jujutsu Kaisen Season 2 is currently at Shibuya Arc. Gojo, the strongest character within JJKverse was sealed by Kenjaku. The Shibuya Arc in Season 2 has been an absolute rollercoaster, but there's one question buzzing in the minds of fans everywhere – is our beloved Nanami going to die in JJK Season 2?
The Shibuya Arc has been throwing curveballs left and right. We've seen fierce battles, jaw-dropping reveals, and the kind of action that keeps us on the edge of our seats. We recently saw the fight between Dagon and Toji.
Toji only appeared for a few episodes in Season 2 and managed to steal the spotlight from Megumi, Nanami, Maki, Yuji, Gojo, and Naobito. We also saw the battle between father and son (Toji vs Megumi) and then Toji kills himself to protect Megumi.
Parallel to their fight Jogo and Sukuna were fighting which was one of the most amazing fights in the Shibuya Arc.
Is Nanami Going To Die in JJK Season 2 Shibuya Arc?
In the Shibuya arc, Nanami managed to beat Haruto then in his fight with Dagon, he was badly hurt. However, Toji arrives, looks for the strongest cursed spirit around, and starts beating Dagon. Nanami was saved because of Toji.
However, as soon as the Dagon domain expansion was lifted. Jogo arrives and he burns Nanami and Maki and kills Naobito.
Uptill now Nanami is alive and parallel to these events he is fighting with transformed humans. Mahito has transformed a lot of humans in the Shibuya arc using his cursed technique.
If you don't want to be spoiled. Don't read further, however, if you want an answer and want to be ready for this emotional moment. Here is your answer:
Nanami manages to kill a lot of transformed humans despite being badly burnt and hurt. However, Mahito was hiding and waiting.
As soon as Nanami is completely exhausted, Mahito arrives and at that exact moment, Yuji also arrives. Nanami says to Yuji that the rest is up to you. Mahito completely destroys Nanami's upper half. Nanami dies in Shibuya Arc.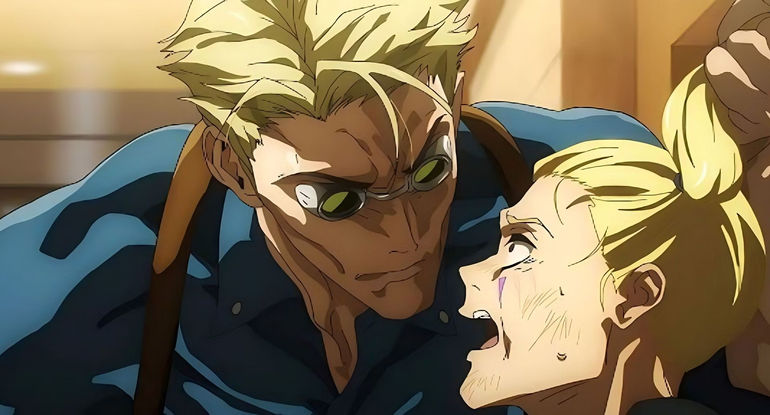 In which Jujutsu Kaisen Episode is Nanami going to die?
Nanami's death happened in the 120th chapter of the manga. Jujutsu Kaisen Episode 40 aired last Thursday. It was the adaption of the 114-116 chapter. JJK Episode 41 is going to be an adaption of manga chapters 117-119. So, from this we can speculate that Nanami is going to die in Jujutsu Kaisen Episode 42.
Final Words
In the Shibuya Arc, anything goes. Curses are running rampant, and our sorcerer friends are caught in the thick of it. Nanami, being the seasoned warrior he is, has been facing challenges that could make even the bravest of us break a sweat. However, it was too much even for him. He dies in Jujutsu Kaisen Shibuya Arc.